Ass. Prof. Pan ZHANG's Latest Article at Public Administration Review
2020/4/20 10:43:02
Assistant Professor Pan ZHANG published his latest article at the top journal Public Administration Review early this month. Full version at:https://doi.org/10.1111/puar.13184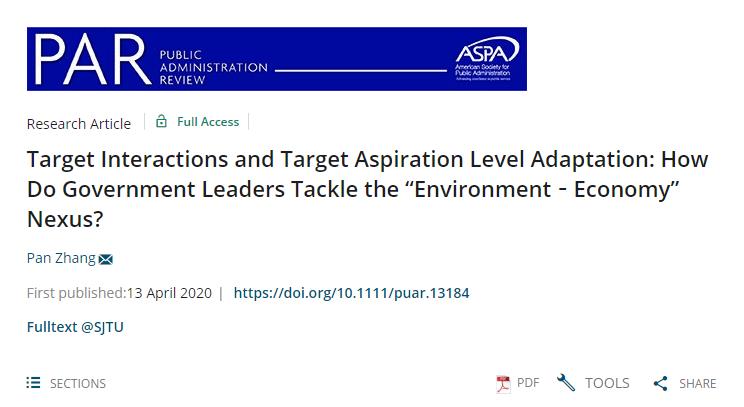 Abstract
How do local governments set performance targets under multi‐task conditions? This article builds a theoretical linkage between environmental targets and gross domestic product (GDP) growth goals in China. Treating environmental protection and economic development as competitive tasks in China, the author argues that environmental targets constrain GDP growth goals and that this negative relationship is weakened by relative pollutant emission efficiency. The article empirically examines these theoretical hypotheses using a panel data set of sulfur dioxide emission reduction targets and GDP growth goals across Chinese provinces. The statistical findings support these arguments and help elucidate the "black box" of decision‐making in the public sector.
Evidence for Practice
High pollutant emission reduction pressure can lower provincial leaders' expectations of economic growth in China.
The improvement in pollutant emission efficiency weakens the constraint of pollutant emission reduction pressure on expectations of economic growth.
Government leaders should improve pollutant emission efficiency to achieve a win‐win situation for economic growth and pollution control.