Fall 2021 SIPA International Graduate Admission Schedule
2020/10/13 11:21:54
HOW TO APPLY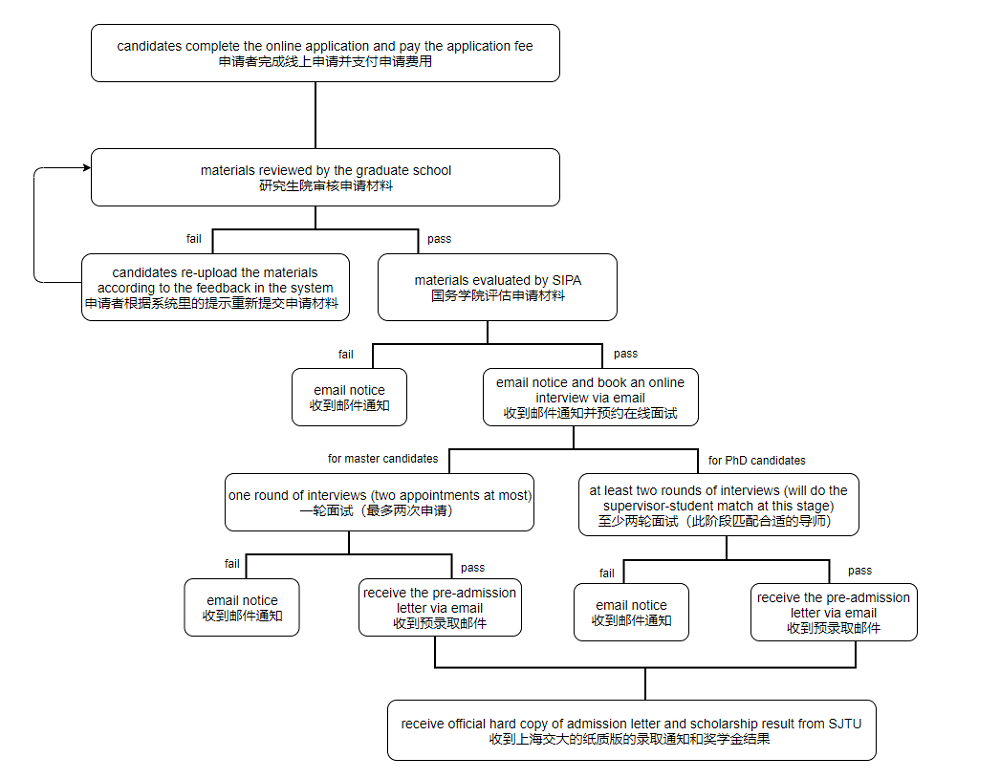 Notes:
1.Complete and submit an online application at Study@SJTU (http://isc.sjtu.edu.cn/) by the application deadline. If you wish to apply for the scholarship at the same time, please complete the application by the scholarship deadline.
2.The application fee is RMB 800 (approx. USD 120), non-refundable and non-transferable. Payment must be made in RMB or USD. You can choose online payment or bank transfer in the online application system.
3. It usually takes 10 working days for SIPA faculty members to evaluate your application materials as well as your interview performance.
IMPORTANT DATES AND DEADLINES:
Oct 1, 2020 2021 application opens
Dec 15, 2020 Deadline for 1st Round scholarship application
Mar 31, 2021 Deadline for 2nd Round scholarship application
May 31, 2021 Deadline for self-supported application
Sep 5, 2021 Enrollment
TUITION AND HOUSING FEES:
China's Politics and Economy Master's Program(CPE), taught in English:

CNY 70,000/Year *2 years

Public Policy Master's Program (CPP),taught in English:

CNY 70,000/Year *2 years

Public Administration Ph.D. Program: CNY45,500

/Year *4 years

Politics Master Program,taught in Chinese: CNY 28,900/Year * 2.5 years

Public Administration Master Program,taught in Chinese: CNY 28,900/Year * 2.5 years
Click this link for 2021 SIPA program brochure

/kindeditor/Upload/file/20201013/202010131127218896751.pdf