Yale-SJTU Forum on Global Public Health Policy Successfully Held
2020/12/14 15:35:57
Dec. 13, Yale-SJTU Joint Center for Health Policy Council Committee Meeting and the Third Forum on Global Public Health Policy was successfully held in Shanghai, participants from Yale and Beijing joined online. Three research projects were released and new fellows were appointed on the forum, followed by two keynote speeches from Paul D. Cleary and Ningshan CHEN on the topics of "Biden's Plan to Fight COVID-19", and "The Impact of "China's Basic Medical and Health Promotion Law" on the Public Health System Infrastructure in China". Over 20 experts on health policy from China and US joined panel discussions on two sessions: In response to future global pandemic threats, what are the major changes that are need in the government, public health, healthcare delivery systems, or social governance? How can we further cooperate on major chronic public health threats such as HIV/AIDS, tuberculosis, etc.?
The Council Committee Meeting is hosted by Lisa X.XU, Vice President of SJTU and Director of the Joint Center CouncilCommittee. Paul D. CLEARY, Director of the Joint Center, Anna M.R. Lauder Professor of Public Health at Yale reported on the Center's 2020 at-a-glance, and 2021 development goal-setting, including the release of the first batch of research topics, followed by an open discussion on the Center's development plan before an closing remark given by Lisa.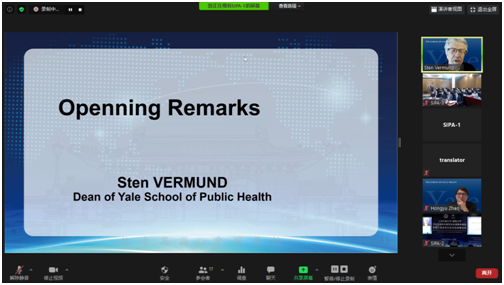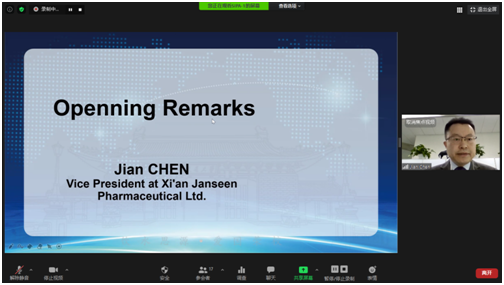 After the Council Committee Meeting, the 3rdForum on Global Public Health Policy is moderated by Prof. Jin HU, Acting Dean of SJTU School of International and Public Affairs.Lisa X. XU, Sten VERMUND, Dean of Yale School of Public Health, and Jian CHEN, Vice President at Xi'an Janseen Pharmaceutical Ltd. delivered opening remarks respectively. In her speech, Lisa expressed her sincere welcome to the guests and wished the forum a complete success. At the same time, she introduced SJTU social science construction in recent years and the development achievements of the Joint Center this year. She pointed out a health policy think tank with interdisciplinary integration and strong academic influence, such as Yale-SJTU Joint Center for Health Policy, is of importance for the global governance in the context of the global spread of COVID-19. Finally, she wishes SJTU and Yale will use the Center as a platform to carry out more international cooperation and exchanges. Sten shared the main policies and implementation of the United States to fight against the COVID 19, and put forward suggestions for future policy optimization through the comparison with the relevant data of China's response to the epidemic. He also looked forward to further cooperation with SJTU in the coming year. Jian expressed his high respect and thanks to the medical staff working in the front line of fighting the epidemic, and introduced Xi'an Janseen Pharmaceutical Co., Ltd. measures and achievements this year. He hoped that everyone would make efforts to continuously promote the progress of health policies in China, provide comprehensive support for patients, contribute to healthy China, and build a better future for mankind.
Afterwards, three research projects were released and three new fellows were appointed, which was announced by Dahai ZHAO, Executive Director of the Joint Center, and appointment letters were given by Peng LUO, Director of the SJTU International Affairs Division.
Paul D. Cleary and Ningshan CHEN, Deputy Director of the Regulations Department at the National Health Commission were invited to give the keynote speeches on frontiers on Sino-US Public Health Policy.
Following the keynote speeches, panel discussions with two sessions were moderated by Hongyu ZHAO, Department Chair and Ira V. Hiscock Professor of Biostatistics at Yale. Shankai YIN, President and CEO of the Sixth Hospital Affiliated with SJTU,Chunlin JIN, Director at Shanghai Health Development Research Center, Bo FAN, Executive Dean at SJTU School of Emergency Management, Xi CHEN, Associate Professor at Yale School of Public Health, Ning ZHENG, President of Chest Hospital Affiliated with SJTU, Hongchen GU, Deputy Dean at SJTU School of Biomedical Engineering, Zhiruo ZHANG, Professor at SJTU School of Public Health, Lufa ZHANG, Executive Dean at SJTU Institute of Health Yangtze River Delta, and Hanzhu QIAN, Fellow at Yale School of Public Health joined the panel discussion and shared their perspectives on the two questions. At the end of the forum, Sten made a closing remark.
The forum was carried out through the combination of online and offline meetings, bringing together experts from China and the United States to jointly think about and respond to the current major chronic public health threatsto all countries and major public health emergencies in the future, creating a platform for friendly cooperation in the field of global public health policy, providing a reference for the development of international academic exchange activities to promote the practice of jointly building a human health community.